What is a Video Campaign?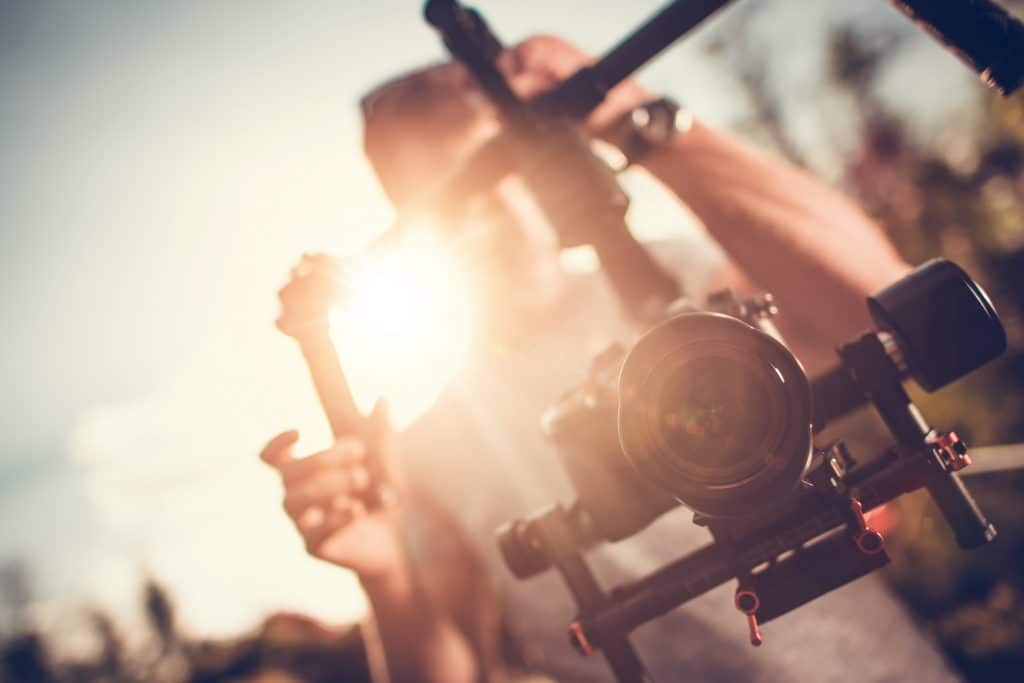 In 2020, 9.4 percent of the marketing industry consisted of video marketing.
We consume huge amounts of videos as we scroll through social media and television each day. Between platforms such as Facebook and Tik Tok, we can't seem to get away from moving pictures! (Meanwhile, someone's GrandPappy just asked Who is Tik and why is she talking to me?) Let's be honest, maybe it's you saying that and not your GrandPappy.
If you've been considering using a video campaign for your company, you're in the right place.
Below is a guide on what a video campaign is and how it can help your business.
What's a Video Campaign?
It's as straightforward as it sounds. A video campaign is a marketing campaign using *drum roll*  video!
While stunning photographs and bright roadside ads are still popular avenues for marketing campaigns, video tends to linger in the brain. Did you have to let it linger? YES yes we did.  It's a much more effective marketing strategy than a billboard. Even if the billboard is of the Cranberries.
Thanks to all of our advanced technology and social media platforms, your video campaign won't go to waste. You'll have plenty of streaming options to choose from once creating your campaign.
What's So Special About Video?
Whether you're posting a video on your WordPress site or tossing it onto your Instagram feed, you're sharing a few moments of magic with your audience. Bippity Boppity BAM!
Creating a narrative that evokes emotions is suddenly made simple with video. Take a second to imagine your audience laughing or shedding a tear as they lounge on their couch or waiting to board a plane.
Emotions are powerful persuaders and can be used to drive a sale or increase website traffic. Take it from someone who could sob at a Publix commercial.
Your video campaign is the perfect opportunity to share magic made within your own company. Create an ad introducing your staff, or give a sneak peek into the history of your business (because an audience loves an intimate look into who they buy from).
Creating a Video Campaign
This all sounds great in theory, right? It's now to put your ideas into action by creating your own video content marketing strategy.
Define Your Goal
Before diving into creating your campaign, it's important to define your goal. Setting your focus is one of the biggest marketing tips we can offer and is important for both you and your team
Ask yourself these questions when defining the goal of your video campaign:
What is the desired outcome of this video campaign?
What emotions are we attempting to stir?
What actions are we hoping to encourage with this video?
Defining your goal eliminates distractions, gives a closer look at your intended audience, and provides direction. You'll feel lost with a team goal-setting session.
Create a Hook
How many times have you skipped past a video on a social media platform when given the chance?
There's a good chance you've skipped quite a few, but don't let this discourage your team from creating a video campaign. Instead, let it push you to go above and beyond!
Creating a strong grab in the first four to five seconds of your video is crucial in capturing a consumer's attention.  The video itself must cut through the static of all others available to your audience. In other words, get them hooked!
Use bright colors, shocking audio, or intense graphics. Whatever it takes to get your message across.  Aim to convince viewers reason to stop scrolling and engage.
Influencer marketing is wildly popular and strategic at this capacity. If you have connections to influencers in your network, consider a collaboration. Say you had a brick-and-mortar shop in town. You can post videos to attract shoppers to your  product by sharing it online across your social channels.
Consumers are much more likely to purchase your product if their favorite face is promoting it.
Keep Consumers Entertained
You may have created a hook, but the work isn't done just yet.
A hook reels the audience into your campaign, but the remainder of the video keeps them around. Use every second of the video in a beneficial manner, and eliminate any unnecessary fluff that could disinterest the viewers.
To create a meaningful video, carefully construct humorous or insightful dialogue. Capture each frame in a way that engages the viewer, and only use text and graphics in meaningful ways.
Include a CTA
If you're going to remember anything, remember to include a CTA. Including a call-to-action at the conclusion of your ads, whether written or video, is one of the most vital marketing tips we can offer.
Imagine watching a video ad and then not knowing what the purpose was. You and your viewers would feel like you were cheated out of two minutes.
Take advantage of this moment! When creating a call-to-action, remember to keep it clear and concise. This isn't the time for metaphors and riddles. it's time to close on your customer. You have to invite people to take the desired action you want them to. Especially when its to explore your website or invest in your service.
Gain Inspiration
Are you feeling stuck on how to go about creating your video campaign? Everyone hits a creative block every now and then, but luckily for you, you can gain inspiration from the video campaigns that already surround you.
Re-watch your favorite Superbowl commercials, or spy on your competitor's video campaigns. (We promise it's allowed.) And as you watch these videos, take notes.
Ask yourself these questions when taking notes:
What are some elements that worked well in their campaign?
How can you let these elements inspire your campaign?
What are some elements that didn't work?
How can you avoid those elements?
Why Are Video Campaigns Important to Your Small Business?
Small businesses often struggle to keep visitors on their website for more than a few seconds. But with a video campaign, you can capture your audience's attention and keep them engaged with your content. It's like having a Netflix series about your business - visitors won't be able to resist watching and learning more about what you have to offer.
Video campaigns don't require a big budget to create engaging content. All you need is a good camera, some creativity, and a little bit of humor. Plus, video campaigns can help small businesses differentiate themselves from competitors, giving you an edge in the market. 
Creating a Video Campaign: A Deeper Look
It's time to take your marketing campaigns to the next level through a video campaign. Make sure to bookmark this article to keep with you along your creative journey.
Video campaigns are powerful marketing tools because they tell stories and stir emotions. When creating your video campaign, don't forget to define a goal, create a hook, and insert a call-to-action.
Speaking of growing your business, do you need a little extra help taking care of your website while you focus on your marketing? Your WP Guy is at your service! Schedule an appointment with our team today.
What is a Video Campaign? Summary
• In 2020, 9.4% of the marketing industry incorporated video campaigns.
• Companies can use platforms such as Facebook and Tik Tok to reach potential customers with a video campaign.
• Video campaigns evoke emotions from consumers that create a powerful persuasive effect.
• When creating a video campaign, define your goal, create a hook, and include a call-to-action.
• Be sure to watch similar videos for inspiration and get extra help from experts like Your WP Guy if needed.
How effective are video campaigns compared to other marketing strategies?
Video campaigns are highly effective when compared to traditional marketing strategies. In 2020, approximately 9.4% of the marketing industry consisted of video campaigns, and this number continues to rise. Video has a unique ability to capture and hold viewers' attention, thanks to its capacity to evoke emotions and tell compelling stories. Unlike static images or text-based ads, videos can engage consumers on a deeper level, making them more likely to remember and act on the message.
With the availability of various social media platforms such as Facebook and TikTok, businesses can reach their target audience with video campaigns more effectively than ever before. These platforms offer opportunities for organic reach and targeted advertising, enabling companies to tailor their video content to specific demographics. So, if you're looking for a marketing strategy that can leave a lasting impact, video campaigns are an excellent choice.
Do I need a big budget to create a successful video campaign?
No, you don't need a large budget to create a successful video campaign. While big-budget productions can certainly be impressive, many successful video campaigns are created on a modest budget. What's essential is creativity, a good camera, and a touch of humor or storytelling.
Small businesses often worry about the cost of video production, but the truth is that engaging video content can be made affordably. Today's smartphones often come equipped with high-quality cameras, which can produce excellent video footage. Additionally, there are various free or low-cost video editing software options available to help you craft your video campaign.
What truly matters is the content and the message you convey through your video. If you can create a compelling story or message that resonates with your audience, you can capture their attention and achieve your marketing goals without breaking the bank. So, don't be discouraged by budget concerns; focus on creativity and authenticity in your video campaign.
How can I ensure my video campaign captures and retains viewers' attention?
Capturing and retaining viewers' attention in a video campaign is essential for its success. To do this, you'll want to create a strong hook within the first few seconds of your video. In the fast-scrolling world of social media, those initial moments are crucial.
Consider using eye-catching elements like bright colors, compelling visuals, or intriguing audio to grab the viewer's attention right away. The goal is to make them stop scrolling and engage with your content.
Additionally, the entire video should be engaging and free from unnecessary fluff. Craft meaningful and insightful dialogue, frame each shot thoughtfully, and use text and graphics purposefully to enhance the message. Keep the pacing engaging to prevent viewers from losing interest.
Remember that storytelling can be a powerful tool to maintain viewer engagement. If your video conveys a narrative or evokes emotions, viewers are more likely to stay engaged throughout the entire video.
So, when creating your video campaign, focus not only on the initial hook but also on sustaining the viewer's interest throughout the video's duration.
Why is it important to include a call-to-action (CTA) in my video campaign?
Including a call-to-action (CTA) in your video campaign is vital because it guides your viewers on what action to take after watching the video. Think of it as the final push to convert your audience into customers or encourage them to engage further with your brand.
Imagine watching a compelling video ad and then being left wondering, "What should I do next?" Without a clear CTA, both you and your viewers might feel like you missed an opportunity. A well-crafted CTA clarifies the next steps and encourages viewers to take action.
When creating a CTA, it's essential to keep it clear and concise. This is not the time for metaphors or vague statements. Instead, be direct and specific about what you want your audience to do, whether it's visiting your website, signing up for a newsletter, making a purchase, or any other desired action.
A strong CTA can significantly impact the effectiveness of your video campaign by guiding your audience towards the desired outcome. Don't underestimate the power of a well-placed and compelling call-to-action.
How can I find inspiration for my video campaign when I'm feeling stuck?
Creative blocks can happen to anyone, but finding inspiration for your video campaign is possible, even in challenging moments. One effective way to spark your creativity is by watching and analyzing existing video campaigns, including those from your competitors.
Start by revisiting your favorite commercials or video ads. Pay attention to elements that worked well in those campaigns. What made them memorable or engaging? Take notes and consider how you can incorporate similar elements into your own campaign.
It's also a good idea to keep an eye on your competitors' video campaigns. This isn't about copying their ideas, but rather about gaining insights into what's currently resonating with your target audience. Identify elements that may not have worked for them and strive to avoid those pitfalls.
Furthermore, don't hesitate to explore other creative sources outside your industry. Sometimes, innovative ideas come from entirely different fields. Attend industry events, watch TED Talks, or read books and articles on creativity and marketing to expand your perspective.
Remember, inspiration can strike from unexpected places, so stay open to new ideas and approaches. Overcoming creative blocks is part of the creative process, and with determination, you'll find the inspiration you need to create a compelling video campaign.
Why are video campaigns important for small businesses?
Video campaigns are particularly significant for small businesses for several compelling reasons. First and foremost, small businesses often face the challenge of capturing and retaining visitors' attention on their websites. With a video campaign, you can address this issue by creating engaging content that holds viewers' interest.
Think of it as having a "Netflix series" about your business. Much like binge-watching a favorite show, visitors won't be able to resist watching and learning more about what your business has to offer.
Moreover, video campaigns don't necessarily require a substantial budget to produce engaging content. Many small businesses can create effective video campaigns with a good camera, a dash of creativity, and perhaps a touch of humor. This cost-effective approach allows small businesses to compete with larger counterparts on a more level playing field.
Furthermore, video campaigns help small businesses stand out in the market. They allow you to convey your brand's personality, values, and unique selling points effectively. In a crowded marketplace, this differentiation is crucial for attracting and retaining customers.
In essence, video campaigns empower small businesses to tell their story, engage their audience, and compete effectively, making them a valuable tool in the marketing arsenal.
Can you provide a more in-depth look at creating a video campaign?
Absolutely! Let's dive into the process of creating a video campaign with a bit more detail.
Define Your Goal: The first step is to clearly define the goal of your video campaign. What do you want to achieve? Whether it's increasing brand awareness, driving website traffic, boosting sales, or something else, having a well-defined goal is crucial. This not only provides direction but also helps you measure the success of your campaign.

Create a Hook: As mentioned earlier, a strong hook in the first few seconds of your video is essential. This hook should grab viewers' attention and entice them to keep watching. Use captivating visuals, intriguing questions, or a surprising opening to draw them in.

Tell a Story: Effective video campaigns often tell a story or convey a narrative. Storytelling helps create an emotional connection with your audience. Craft a compelling narrative that resonates with your brand and engages viewers on a personal level.

Keep It Engaging: Throughout the video, maintain a high level of engagement. Every second should contribute to the overall message or story. Avoid unnecessary filler content that might cause viewers to lose interest. Engage the audience through humor, emotion, or valuable insights.

Include a Call-to-Action (CTA): Don't forget the CTA at the end of your video. This is where you guide viewers on what action to take next. Make the CTA clear, concise, and relevant to your campaign's goal. Whether it's encouraging them to visit your website, subscribe to your newsletter, or make a purchase, be direct about what you want them to do.

Test and Optimize: After launching your video campaign, monitor its performance closely. Analyze metrics such as views, engagement, click-through rates, and conversions. Use these insights to refine and optimize your future video campaigns. A/B testing different elements of your videos can help you determine what resonates best with your audience.

Consistency and Branding: Maintain consistency in your video campaigns to reinforce your brand identity. Use similar visual elements, fonts, colors, and tone of voice across your videos. This consistency helps viewers recognize and remember your brand.
By following these steps and continuously refining your approach, you can create video campaigns that effectively reach and engage your target audience, achieving your marketing objectives.
Can video campaigns benefit businesses with physical locations, like brick-and-mortar shops?
Absolutely! Video campaigns can be highly advantageous for businesses with physical locations, such as brick-and-mortar shops. Here's how:
Online Visibility: Even if you have a physical store, having an online presence is crucial in today's digital age. Video campaigns can help increase your online visibility and reach a wider audience. By sharing videos of your products, services, and store, you can attract potential customers who may not have otherwise discovered your business.

Local Promotion: Video campaigns can specifically target your local audience. If you have a physical location, you can create videos showcasing your store, its ambiance, and the products or services you offer. Highlight any special promotions, events, or in-store experiences to entice local customers to visit.

Influencer Collaborations: As mentioned earlier, influencer marketing can be a strategic approach. If you have connections to local influencers, consider collaborating with them to promote your brick-and-mortar shop. Influencers can create engaging video content that showcases your store to their dedicated followers, driving foot traffic.

Customer Testimonials: Encourage satisfied customers to share their experiences through video testimonials. Authentic reviews from real customers can build trust and credibility, persuading others to visit your physical location.

Virtual Tours: Offer virtual tours of your store through video. This allows potential customers to explore your space from the comfort of their homes, giving them a sense of what to expect when they visit in person.

Events and Workshops: If you host events, workshops, or special promotions in your physical store, create video campaigns to announce and promote these activities. This can help boost attendance and engagement.
In summary, video campaigns can be a powerful tool for promoting physical locations, attracting local customers, and enhancing your online presence, even if you operate a brick-and-mortar shop. The key is to create engaging and informative video content that resonates with your target audience.
What are some common mistakes to avoid when creating a video campaign?
When creating a video campaign, it's important to be aware of common mistakes and pitfalls that can hinder your success. Here are some mistakes to avoid:
Ignoring Your Target Audience: Failing to understand your target audience and their preferences is a common mistake. Your video content should resonate with your intended viewers. Conduct thorough audience research to tailor your message accordingly.

Overcomplicating Your Message: Keep your message clear and concise. Avoid overloading your video with too much information or trying to convey multiple messages at once. A simple, focused message is more effective.

Neglecting Mobile Optimization: With many viewers watching videos on mobile devices, it's crucial to optimize your videos for mobile viewing. Ensure that your videos are mobile-friendly, load quickly, and display properly on various screen sizes.

Poor Video Quality: Low-quality visuals and audio can detract from your video's impact. Invest in decent equipment or hire professionals if needed. High-quality production values reflect positively on your brand.

Neglecting Storytelling: Storytelling is a powerful tool in video marketing. Don't merely present facts; create a narrative that resonates with your audience emotionally. A compelling story can leave a lasting impression.

Ignoring SEO: Don't forget about search engine optimization (SEO). Optimize your video titles, descriptions, and tags with relevant keywords to improve discoverability on platforms like YouTube.

Neglecting Analytics: After launching your video campaign, monitor analytics to track performance. Ignoring this data means missing out on valuable insights. Use analytics to refine your strategy and improve future campaigns.

Lack of Testing: Not A/B testing different elements of your videos can hinder your ability to understand what works best with your audience. Experiment with variations to optimize your content.

Skipping the Call-to-Action: As mentioned earlier, including a clear and compelling call-to-action (CTA) is essential. Failing to provide a next step for viewers can result in missed opportunities.

Inconsistent Branding: Maintain consistent branding elements across your video campaigns. Visual consistency helps reinforce your brand identity and makes your content more recognizable.
By being mindful of these common mistakes, you can create more effective video campaigns that engage your audience and drive desired actions.
How can I measure the success of my video campaign?
Measuring the success of your video campaign is crucial to understand its impact and make informed decisions for future marketing efforts. Here's how you can gauge the success of your video campaign:
View Count: The number of views your video receives is a basic but essential metric. It provides an initial indication of your video's reach. Keep in mind that not all views are equal; some may be more engaged than others.

Engagement Metrics: Dive deeper into engagement metrics like likes, comments, shares, and click-through rates (CTR). These metrics show how viewers are interacting with your video and can reveal its overall appeal.

Conversion Rate: If your video campaign has a specific goal, such as driving website visits or purchases, track the conversion rate. Calculate the percentage of viewers who took the desired action after watching your video.

Watch Time: Analyze how long viewers are watching your video. A high watch time indicates that your content is engaging and retains viewers' attention.

Audience Demographics: Understand your audience better by examining demographic data. Platforms like YouTube and Facebook provide insights into the age, gender, location, and interests of your viewers. This information can help you refine your targeting.

Click-Through Rate (CTR): If your video includes a CTA directing viewers to a website or landing page, monitor the CTR. It indicates how many viewers followed through with the action you wanted them to take.

ROI (Return on Investment): Calculate the ROI of your video campaign by comparing the costs of production and promotion to the revenue generated. A positive ROI is a clear indicator of success.

Feedback and Surveys: Collect feedback from viewers through surveys or comments. Their insights can provide valuable qualitative data on what worked and what didn't in your video campaign.

Comparative Analysis: Compare the performance of your video campaign to previous campaigns or industry benchmarks. This context helps you assess whether your campaign exceeded, met, or fell short of expectations.

Social Media Metrics: If your video is promoted on social media platforms, track platform-specific metrics like shares, retweets, and engagement. Each platform may have unique ways of measuring success.
By analyzing these metrics and using them to evaluate the effectiveness of your video campaign, you can make data-driven decisions to improve future campaigns and optimize your marketing strategy.