From Vision to Reality: How Professional Web Designers Turn Your Ideas into Functional Websites
Every business starts with a vision. You know your brand identity, your target audience, the experience you want to create. Now you need a website that brings it all to life.
But going from concept to finished product can feel overwhelming, especially if web design isn't your forte. Where do you even start? How do you choose the right platform and features? And how can you ensure your website both reflects your brand and functions flawlessly?
This is where partnering with professional web designers pays dividends. These experts bridge the gap between your vision and a fully-realized website that delivers measurable business results.
Discover: Defining Your Brand and Goals
The discovery phase is where your web designer develops a deep understanding of your business objectives and brand identity through extensive research and probing questions. This informs every subsequent phase of the design process.
Brand Strategy
The designer examines your existing brand assets like logo, color palette, fonts, and imagery. They also explore your core values, personality, tone, and what makes your brand unique. This brand strategy acts as the north star guiding all design decisions.
Business Goals
Understanding your business goals is crucial - do you want to drive more sales? Generate leads? Improve customer engagement? Build credibility? By clarifying your goals upfront, designers can craft key features and functionality to help you achieve them.
Audience Insights
Your designer also gathers key details about your target audience - their demographics, challenges they face, and what motivates them. With in-depth audience insights, they can create tailored experiences that resonate.
According to research by the Content Marketing Institute, 70% of content marketers say their biggest challenge is producing content that resonates with their audience. A solid discovery process is key to overcoming this hurdle.
Conceptualize: Transforming Ideas into Designs
Armed with a firm handle on your business and audience, your designer starts conceptualizing website architectures, layouts, and visual styles.
Information Architecture
Like a home's floorplan, your site's IA determines how content and functionality are organized and structured. Based on discovery findings, web designers map out effective IAs tailored to your goals.
Conceptual Layouts
Designers sketch page layouts defining the overall positioning of elements like navigation, headers, sidebars, and footers. Refining these layouts is an iterative process informed by continual testing.
According to research by NNGroup, 79% of users scan web pages rather than reading them word-for-word. A clean, scannable layout optimized for your key content is vital.
Style Tiles
Style tiles allow designers to explore different visual treatments like color schemes, typography, iconography, and image styles. They present multiple style tiles for you to respond to, guiding the designs toward what best reflects your brand.
Build: Transforming Designs into Reality
With the groundwork laid, web designers move into constructing a fully functional, visually polished website tailored to your business needs.
Platform Selection
Whether building on a content management system like WordPress, a dedicated ecommerce platform like Shopify, or a website builder like Squarespace, designers advise on the ideal platform for your goals.
Coding and Development
Here's where the web development come in. They architect the site's backend, configuring hosting, databases, security protocols, forms, and integrations with external services. They build a robust technical foundation optimized for speed and scalability.
Installation and Configuration
Web designers and developers handle installing and configuring the CMS or ecommerce platform, plugins, payment processors, email marketing integration, and other tools needed to bring all functionality online.
User Testing
As the design evolves, designers continually test it with real users to identify pain points and opportunities to optimize the experience. User testing leads to revelations designers can't find on their own.
According to Baymard Institute, the average shopping cart abandonment rate is 69.57%. Rigorous user testing helps minimize abandonment by creating intuitive, seamless experiences.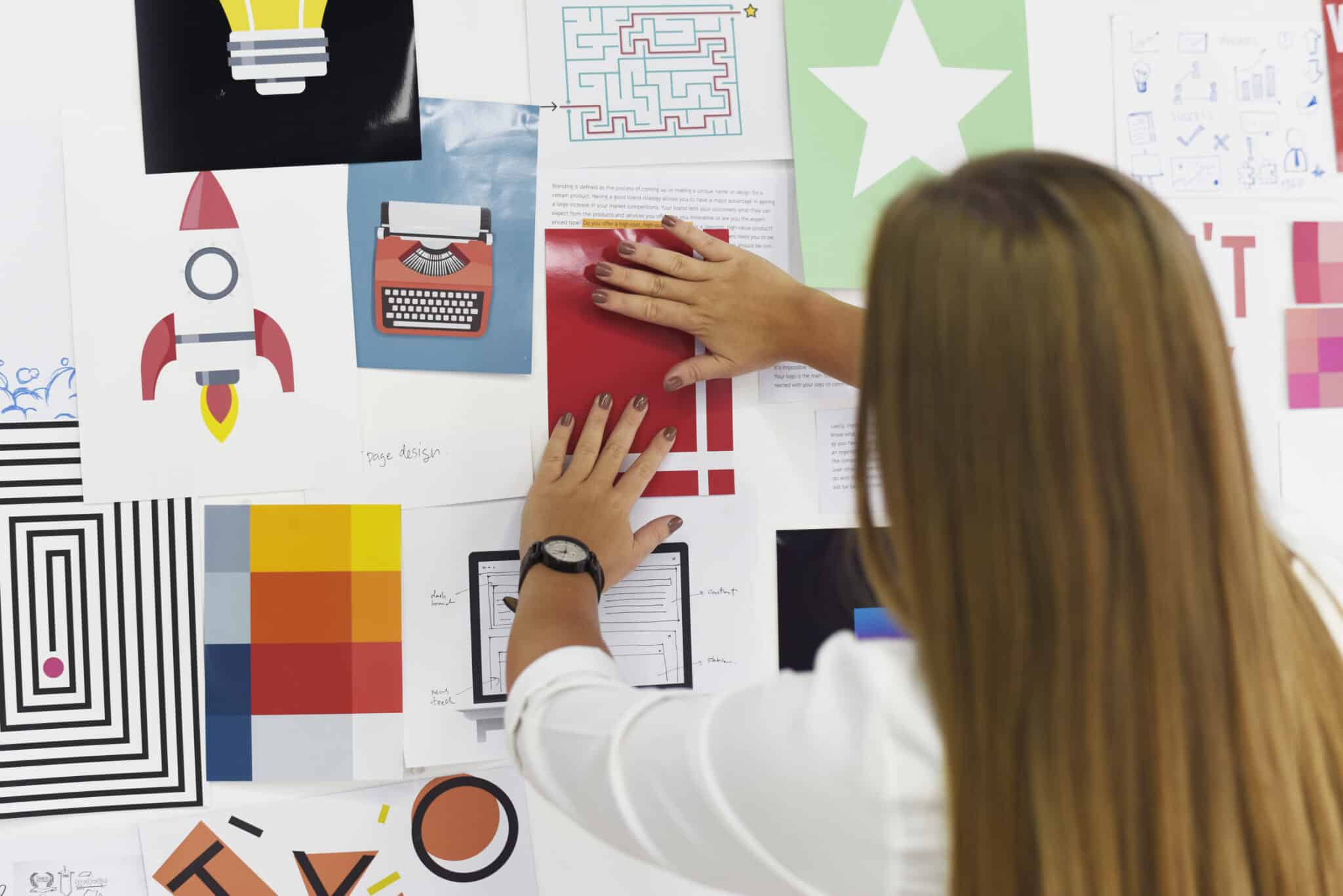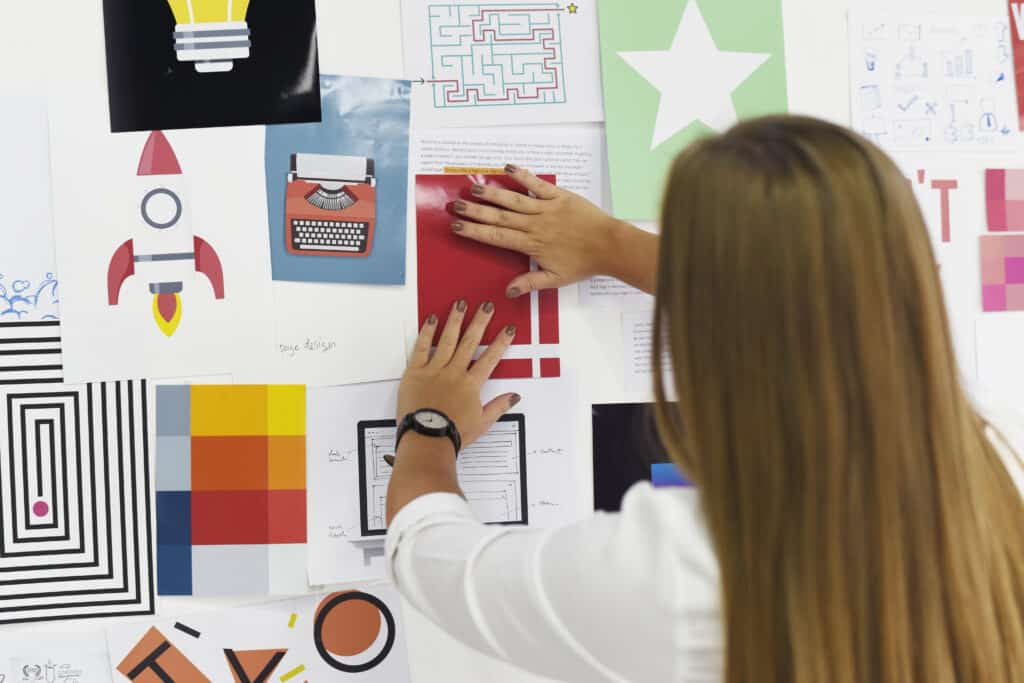 Refine: Polishing the Pixel Perfect Website
Before launching, your designer refines the site for optimal performance, beauty, and utility.
Visual Design
Working within the approved style direction, the designer creates custom graphics, pick perfect fonts, and add visual flourishes to bring the design to life.
Copywriting
Designers craft compelling copy that speaks directly to your audience and aligns with your brand voice. Their words capture attention and communicate value clearly.
Quality Assurance Testing
Web designers put the site through extensive testing across browsers and devices, verifying functionality, flagging bugs, and resolving any issues. They confirm it looks and performs flawlessly.
Search Engine Optimization
To maximize discoverability, designers optimize page speed, metadata, URLs, etc. following best SEO practices. This helps you get found when users search for services you provide.
According to Moz, websites with faster page load speeds have higher conversion rates. Improving site speed by just 1 second can increase conversions by 7%.
Why Is Website Design Important to Small Business Owners?
For small business owners, your website is often the first impression potential customers will have of your brand. A DIY website built without web design expertise risks driving customers away with a lackluster experience. This can be emotionally and financially devastating. Mediocre web design leads to lost opportunities and revenue. It also fails to convey the heart you've poured into your business. Don't let a poor website undermine all your hard work.
Partnering with professional designers gives you the confidence of knowing your website will represent your brand accurately and convert visitors into delighted customers. It ensures your website works for you, not against you. With so much riding on your online presence, can you really afford to not invest in custom web design? The return in credibility, engagement, and sales is well worth the investment.
Launch: Let Your Website Shine
Once refined and thoroughly tested, it's time to officially launch your website! But the process doesn't end there.
Training
Your designer should provide training to educate you and your team on using your new website, adding content, accessing data, and more to you up for self-sufficiency.
Support
After launch, it's important to have ongoing professional support to promptly respond to any questions or issues. This should involve monitoring site performance and implementing improvements to keep it running smoothly.
Maintenance
Technology inevitably changes. Make sure you or a website expert proactively maintains your site, keeping it up-to-date with new capabilities that improve functionality and experience.
Don't leave your website to chance. Bring on the professionals and watch your vision come to life!
Schedule a discovery call with Your WP Guy to get your custom website designed by the experts. Our tailored approach delivers a site that functions flawlessly while immersing your audience in your brand story. Let's chat about making your website vision a reality.
From Vision to Reality: How Professional Web Designers Turn Your Ideas into Functional Websites Summary
Professional web designers invest time understanding your business goals and audience.
They conceptualize designs tailored to your brand identity and user needs.
Technical experts handle platform selection, development, integrations and configurations.
It's important to continually test with real users to optimize the site experience.
Even after launch, make sure you have a plan in place for ongoing support, maintenance and improvements.
From Vision to Reality: How Professional Web Designers Turn Your Ideas into Functional Websites FAQs